In this month's ALLi Watchdog post, the indefatigable Giacomo Giammatteo compares Apple with Amazon. Read on to let him help you decide whether you should be trying to get your bite of the Apple,…
Amazon Vs Apple
Everyone knows that Amazon sells more books than Apple, but it's becoming obvious that Apple has moved past B&N into the number two position, and Apple is continuing to grow. According to iBooks Store Director Keith Moerer, addressing publishers at Digital Book World 2015, Apple's ebook businesses is gaining 1 million new customers every week. That's a lot of new readers.
If you're an #author, and your books aren't sold through Apple, rethink your strategy.
Click To Tweet
If you're an author, and your books aren't being sold through Apple, you need to rethink your strategy. Of course, that would mean you'd have to abandon Kindle Select as Amazon demands exclusivity if an author is in Select. And that brings up a question many authors ask.
Should You Be Exclusive On Amazon?
I've never been a big fan of Amazon's exclusivity clause. I also haven't been a fan of the way that Amazon treats authors in relation to how other companies treat authors.
But let's leave exclusivity aside for the moment, and focus on…
Who Is The Best eBook Retailer For Authors

The answer to the question of who is the best eBook retailer is more complicated than it might appear. Amazon sells the most books. We all know that. And in an article last March regarding which eBook retailer is number two, Jeremy Greenfield from Digital Book World had this to say.
I wish I could give you a clear answer, but after nearly a month of investigation into whether Apple or Barnes & Noble is now the second-largest ebook retailer in the US, this is the best I have: It depends.
I think with developments we've seen in the last half of 2014, Apple has secured the number two spot, but let's move off the sales topic and focus on other issues.
I hear a lot of complaints about Apple, most of them having to do with how difficult they are to deal with, or how strict they are about accepting material, or how you need a Mac to submit a book. All of that is true—to an extent. But none of that has much to do with the long term.
Even if it takes you two weeks to upload a book—what's two weeks when your book will be there for years, theoretically, forever. And yes, Apple can be strict about what material they accept, but I'm convinced that's better for indie authors in the long run. As to needing a Mac… I wish it wasn't so, but it is. That leaves you with a few choices, the easiest of which is using a good distributor, which isn't a bad idea anyway.
But Who Treats Authors Best?
With Amazon firmly situated at the top spot for sales and Apple in control of the second position, I thought it was time to compare how the two stacked up regarding their treatment of authors.

Comparing Apple and Amazon
| Feature | amazon | apple |
| --- | --- | --- |
| Categories | 2 | 3 |
| Commission 99c–2.98 | 35 | 70 |
| Commissions 2.99–9.99 | 70 | 70 |
| Commissions 10+ | 35 | 70 |
| Commissions Int'l[1] | 35 | 70 |
| Coupons | X | ✓ |
| Delivery charges | 15c per megabyte | up to 2 Gig free |
| Exclusivity | required for some benefits | X |
| File types | .mobi | epub |
| Free books w/Select | 5 days per quarter | anytime |
| Free books w/o Select | X | anytime |
| Payment terms | 60 days | 32 days |
| Price matching enforced | ✓ | X |
| Pricing internationally | some control | complete control |
| Reach globally | 12 territories | 51 countries |
| Sales reporting | updated every few hours | daily |
| Scheduling promotions | with Select | anytime |
| Series manager tool | X | ✓ |
| Uploading | easy | need a Mac |
Now Let's Dig A Little Deeper
Categories
Amazon lets authors select two categories for books, although they do restrict some of the categories and won't let you choose them. Apple allows you to select three categories, with no restrictions.
Commissions
Notice I said commissions—technically, these are not royalties. The process is complicated here, but only on Amazon's side. The chart lists it, but here are the details and some additional information.
Amazon
If your book is priced between 99c and $2.98, you are paid a 35% commission.
If it is priced between $2.99 and 9.99, you are paid 70%.
If it is priced at $10 or more, you are paid 35%.
If you are not in Select (Amazon's exclusive program) you will be paid 35% in the following countries:
If that wasn't complicated enough, Amazon also charges a delivery fee if your book falls into the 70% commission range.
Apple
– You receive 70% no matter what price or where it's sold.
Note About Commissions
Before Apple entered the scene, Amazon paid indie authors 35% across the board. It wasn't until it became obvious that Apple was coming out with an iPad that Amazon said…
"Holy shit, I better pay these guys more." (My words, not Amazon's.)
And so they raised the royalties to 70%, which was not much of a surprise as that is the percentage Apple was paying musicians and app developers.
Note About International Sales (Brazil, India, Japan, Mexico)
Before you go thinking—I'm not worried about those countries, I don't sell anything there—think again. India is the second largest English-speaking country in the world with about 130 million people. Add another 40 million from the other three countries and you're looking at a population of English-speaking readers about half that of the US.
The reason you're probably not selling anything there is because you're not marketing there. It's not a coincidence that Amazon recently borrowed $2 billion to invest in their infrastructure in India. Think about that—if Amazon considers that India warrants a $2 billion investment, shouldn't you invest a little time for your own future in India?
Here's an article from the Wall Street Journal about it.
The point is, Amazon already has indie authors thinking that India, Mexico, Brazil, and Japan are worth nothing. They are insignificant. Who cares if we're paid 35% instead of 70%? By the time the markets explode there, it will be too late.
Don't let Amazon fool you. We should be fighting for our 70% rights now.
Coupons
Apple provides coupons to give out to customers, bloggers, reviewers. It's a nice touch and easy to use.
Amazon does not.
Delivery Charges
This is one of those things that—when first looked at—seems like nothing. But the more you analyze the cost, it becomes apparent how serious it is. (Amazon only charges you if you are in the 70% commission plan.)
My charges for normal mystery books average 10–12c per book. On a book priced at $2.99 that reduces your earnings from $2.10 to about $2.00. That represents an effective cut of about 4%. So in reality, you're getting 66% instead of 70%.
The actual charges amount to 15c per megabyte. This could get serious if you have a 10-meg file and are selling your book for $4.99. Instead of receiving $3.50, you'd get $2.00. That's taking your commission from 70% to 40%. A huge cut in commissions.
This is so important, I want to spend a moment on it. If you're a typical novelist and your book is primarily text it won't affect you much. Maybe the 3–4% I cited above; however, if you produce cookbooks, illustrated books, non-fiction books heavy with charts, tables, graphs, and images—then these delivery charges mean a lot.
Take a look at this example.
| Megabytes | Cost of Book | Apple Pays | Amazon Pays | Apple Percentage | Amazon Percentage |
| --- | --- | --- | --- | --- | --- |
| 1 meg | 4.99 | $3.50 | $3.35 | 70% | 67% |
| 5 meg | 4.99 | $3.50 | $2.75 | 70% | 55% |
| 10 meg | 4.99 | $3.50 | $2.00 | 70% | 40% |
Before you go thinking…"A 10meg file is a lot…" consider that many of the cookbooks run from 20 – 50 meg or more. The screenshot below is from The Complete Cooking For Two Cookbook, and it weighs in at a whopping 90meg! Of course, at that size it has to be priced much higher, so it falls into the 35% commission range, which means Amazon doesn't charge a delivery fee—but Amazon now keeps 65% of sales.

This book lists at a Kindle price of $29.95, which means Amazon rakes in $19.47 per book! If an indie author produced this book, they would only receive $10.48 per book. Of course, Amazon had it discounted to $21.78, but that doesn't come close to matching Nook's price on the same book: $16.49.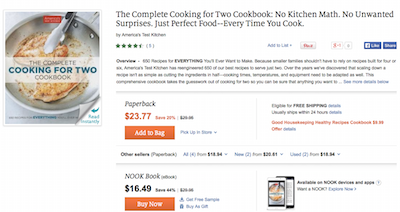 Why doesn't Amazon match the price?
I'm not sure. Maybe they haven't noticed …. ….. ….. Now that I've finished laughing, let's speculate on the real reason.
If you are in the 35% commission zone (or if you're with a major publisher) Amazon pays you commission on the list price—not the matched price. In this case, that means that Amazon is paying this publisher $10.48 per book[2] even though they discounted the price to $21.78. If they went so far as to match Nook's price of $16.49, they would still have to pay the $10.48, which would still leave Amazon a healthy profit…but they don't want to do that. Not all the time.
This brings up a question though—if Amazon is so keen to give their readers lower prices, why not do it with these high-priced books? They certainly have the margins to work with.
No matter. We're not going to delve into that today. That's a topic for a future post. For now, let's move on to exclusivity.
One thing to note before we move on—if you had that same cookbook on Apple and priced it at $29.95, your commission would be $20.96.
Exclusivity
Amazon demands exclusivity if you want to participate in the Lending Library, Kindle Unlimited, or Kindle Select, which allows you to give books away free for five days per quarter. Select also pays equal commissions in Brazil, India, Japan, and Mexico.
Apple has no exclusivity.
File Types
Amazon uses .mobi files and Apple uses ePub.
Free Books
As noted above, with Amazon you must be in the Select program in order to give books free and even then it's limited to five days per quarter.
With Apple, you can give books free at any time.
Payment Terms
Amazon pays 60 days after the end of each month, while Apple pays 32 days after the end of each month.
Price Matching
Amazon insists on having the lowest price, no matter where your book is sold. It will typically price match if they find it at a lower price elsewhere, but they can take other actions, such as removing your book from KDP.
Apple has no such requirements.
This is a big concern for me. I don't want anyone dictating the price I set for my books. Suppose I want to offer Apple readers a special deal on the anniversary of the launch of the iPad, or do the same for Nook readers when a new reader comes out. The problem is that Amazon won't allow it.
Pricing Internationally
With Amazon, there is some control over how you price your books on the international front, but with Apple there is complete control. This can be a big factor if your strategy is to use price to break into a new market. With Apple you have 51 countries where you can adjust price individually, and even put the price in the local currency. I've included a piece from another article I wrote for the Alliance of Independent Authors.
Territory Pricing
If you don't immediately grasp the significance of territory pricing, let me provide some detail. One of the biggest problems with selling internationally is the high cost of books in other countries related to the cost of books in the US. We might be able to sell a solid mystery or fantasy for $5.99, but take that price to Mexico, Brazil, or India, and your book will likely sit on the virtual shelf forever.
We have had the ability to manage prices individually as long as we went direct to the retailer. As an example, on Apple's iBooks I price differently for many of the 51 countries they offer. So I sell for $5.99 in the US, $3.99 in the UK, and 99c in many countries like India, Japan, Mexico, etc. (You can also set prices according to local currency which makes it nicer, too.)
Here's a quick chart to show you how you could set prices.
| Currency | Price |
| --- | --- |
| US Dollar | $5.99 |
| UK Pound Sterling | £1.99 |
| Brazilian Real | R$.99 |
| Mexican Peso | $4.99 |
| Euro | €2.99 |
| Chinese Yuan | ¥12.99 |
The currency shown above might not mean much to you if you're not familiar with the rates, but the table below shows what it would look like if you simply let an app automatically adjust price to other currency.[3]
| Currency | Price |
| --- | --- |
| US Dollar | $5.99 |
| UK Pound Sterling | £3.83 |
| Brazilian Real | R$15.57 |
| Mexican Peso | $92.00 |
| Euro | €4.85 |
| Chinese Yuan | ¥36.95 |
As you can see, this pricing strategy is offering discounts to other countries and offering them in the countries' own currency. And don't forget that Amazon often charges a surcharge of up to $2.00 per book or more in some countries, making our books unaffordable.
Global Reach
With Amazon you can sell your book in 12 different territories.
Apple has 51 countries.
Sales Reporting
Amazon is updated every few hours.
Apple is updated daily.
Scheduling Promotions
Amazon allows you to schedule Countdown promotions if you're in Select.
Apple allows you to schedule promotions any time for various countries.
Uploading
Amazon is very easy. You can upload your file in minutes.
Apple is much more time consuming, and, you need access to a Mac.
This is a big drawback for Apple, and a feature I wish they would change.
Bottom Line
It's time for the final analysis—who is the best retailer for ebooks?
Forget that you make more sales on Amazon, which I'm sure most of you do. Forget everything anyone ever told you and put a blindfold on your emotions. Look at the cold hard facts.
Apple treats authors fairly. All authors.
There's no question in my mind who the best retailer is. I may not sell as many books with Apple—yet—but it's a whole lot more fun working with them. And I'd much rather work with a true partner…so I'll be rooting for Apple to continue to gain market share and provide more competition.
My Predictions
I believe that Apple will continue to increase market share for iBooks worldwide in 2015. I think people have underestimated the impact of two simple things regarding iBook sales:
Apple pre-installing ibooks on all devices running the newer OS.
The new, bigger phones.
My daughter-in-law and two of my other friends have now switched from reading on a Kindle app to reading almost exclusively on their new iPhone 6+. Remember, the vast majority of Kindle readers don't actually own a Kindle, they read Kindle books on other devices. And Apple has hundreds of million of devices in use. A lot of the new iPhone purchases are by people new to Apple, and they are coming into the Apple ecosystem with iBooks pre-installed, so if they want to read books—it's not a stretch to think they'll opt for iBooks.
Combine that with the fact that a lot of authors are finally recognizing that Apple is worth considering as a retail channel, and you have the makings of a perfect storm. A larger selection of books/authors, draws more readers, and more readers draw even more authors. Apple also has a much stronger international presence, and, as noted above, far better terms for authors.
Apple/iBooks will be the one to watch in 2015.
BTW: Here is a link to all of my books on Apple, and Amazon. And B&N and Kobo and Google.
Easy Tweet
The results are in... #selfpub watchdog report: Amazon vs Apple - buff.ly/1EL4AYR
Click To Tweet