The Self-Publishing Advice Conference (#SelfPubCon23) is almost upon us!
We have a fantastic speaker lineup planned, with sessions covering everything you need to create a Success Mindset for Indie Authors. From campaigning and crowdfunding to money management and award submissions, speakers from across the industry will be sharing their expertise. Becca Syme will also join us for a keynote presentation that will give you a comprehensive understanding of how mindset plays a foundational role in every aspect of an indie author's business.
Take a look below to see the full lineup, make your plans, and save the date – 10am Saturday 21st October – Sunday 22nd October.  If you haven't already, register here for the latest updates direct to your inbox.
What is #SelfPubCon23 and how can you attend for free?
#SelfPubCon is a twenty-four-hour FREE online conference brought to you in association with the Alliance of Independent Authors.
The conference kicks off on Saturday, October 21st at 10am London Time. It features 24 sessions over 24 hours, plus live networking with other attendees, speakers and sponsors, competitions, giveaways, and more. All sessions are freely available in replay for three days after the conference opens. 
To join us, no log-in is needed and the conference is FREE. Just hop on over on the day and visit the Session Feed.
This year's theme: Success Mindset for Indie Authors
#SelfPubCon23 features the cream of the crop of self-publishing experts and advisors as speakers and sponsors. This year we have 24 sessions over 24 hours packed full of tips and advice to build your success mindset and help you breakthrough any barriers holding you back from indie author success.
As well as top-flight panels from Ingram Spark and Amazon KDP, we're also bringing you the 'Art of the Title' competition results, sponsored by ALLi and Gatekeeper Press, with big prizes up for grabs (entries now closed). And first-class education sessions will be shared from 50+ speakers, including; Becca Syme, Joanna Penn, Mark Dawson, Carissa Andrews, Russell Nohelty, Michael La Ronn, Jane Friedman and many more (see below for full lineup).
On the day of the conference, just join us online for free  from 10am, Saturday 21st October 2023 (no log-in needed).
How to Access #SelfPubCon23 Outside of the Three Free Days
What you like to have access to #SelfPubCon23 sessions and past conferences without a three-day restriction? We've got you covered. You can purchase an all-access pass which gives you access to this year's content for six months, instead of three days.
Passes also give you access to all past SelfPubCons too (from 2018). That means 100+ sessions of the best indie author education available anywhere on the internet. All together for you to learn from any time you want. 
You have two pass options:
Six-month Pass: access to all past conferences, for six months.
Lifetime Pass: access to all past AND future conferences, forever.
Purchase an All-Access Pass here!
Special #SelfPubCon23 Extended Access for ALLi Members
ALLi members get free six-month extended access to the SelfPubCon23 sessions. ALLi members can find more info here.
IMPORTANT MEMBER INFORMATION: To make use of the extended access, please note that the conference website will not recognize your ALLi membership credentials. It is a separate website. You must register there separately using your special ALLi member discount code (instructions below). For ease, you may wish to keep your login details the same across both the member and conference websites.
Visit the ALLi membership site
Log in
Navigate to the ADVICE tab in the menu and then to CONFERENCE in the drop-down
Locate the code in the lilac-coloured box
Go back to the conference website and enter your code in the 'Gift, Coupon, or Redemption Code?' box on this page.
The Self-Publishing Advice Conference October 2023
Note: All times are in BST (London, UK) time zone. Find your local times here.
In a change of programming this year, we're opening the conference website the day before, to allow you to explore the agenda, get used to the new SelfPubConnect networking space, and prepare yourself for 24-hours of learning.
Don't worry if you can't join us live, replays are free for three days following the conference.
Looking for more information before the conference begins? You can join Carissa Andrews and Kayleigh Brindley a day early, at 10am on Friday 20th October 2023, as they look ahead at the highlights to come, what to expect from the conference, how to enter the great competitions and giveaways, and how to access all of the sessions.
You can download your copy of the agenda here, or read on for an overview of the sessions to look forward to.
#SelfPubCon23 Saturday 21st October 2023: AGENDA
10am: Becca Syme — Keynote: Your Mindset Changes Everything
Join Becca Syme for a keynote presentation that will give you a comprehensive understanding of how mindset plays a foundational role in every aspect of an indie author's business, from the writing process to marketing, networking, and managing both successes and setbacks.
---
11am: Amazon KDP — How To Cultivate a Success Mindset with Amazon KDP
In this session, presented by Amazon KDP, a panel of accomplished indie authors detail the challenges they faced on their way to success, and how they overcame them.
---
12pm: Michael La Ronn —
Levelling Up Your Author Mindset
Dive into a candid discussion with author Michael La Ronn as he unveils essential mindset strategies for fostering a lifelong writing habit and building a rewarding self-publishing business.
---
1pm:

Russell Nohelty & Nick Kotar

 —
Mastering the Crowdfunding Success Mindset
In this empowering session, ALLi member Nick Kotar who recently ran his first successful crowdfunder, interviews USA Today bestselling author and ALLi's crowdfunding advisor Russell Nohelty. They'll discuss the world of crowdfunding and its growing role in the success of indie authors.
---
2pm: Carissa Andrews —
Pen to Prosperity: Money Mindset, Manifestation, and Management
Nurture a positive money mindset, master the art of manifestation, and take away lots of money management tips for authors. We'll explore how shifts in your money beliefs can expand your commercial success as an author and share practical money manifestation and management techniques.
---
3pm: Ingram Spark— Mindset Matters: Unlocking Indie Author Success with IngramSpark
In this engaging session, presented by IngramSpark, a panel of accomplished indie authors, each from distinct genres and territories, will delve into the transformative power of mindset shifts in their journeys to success.
---
4pm: Hannah Jacobson —
How to Win Awards: A Mindset Workshop
+ Q&A
In this marketing mindset workshop, Book Award Pro founder Hannah Jacobson demonstrates the reasons self-published authors fail to enter awards, and brings you through exercises that will help you to develop an award-winning mindset and strategy. A live workshop with Q&A.
---
5pm: ALLi —
ALLi Town Hall: Meet the Alliance of Independent Authors Team
Join us for an engaging live session where you'll have the opportunity to meet members of the Alliance of Independent Authors team! Bring your burning self-publishing questions, and connect directly with our knowledgeable experts for personalised insights into your particular problems. Don't miss this chance to interact with the ALLi team and discuss mindset blocks and hacks!
---
6pm: PublishDrive —
Develop A Scaling Mindset: How Efficiency Generates Success
For an indie author, "scaling" is the process of expanding and amplifying your reach, influence, and book sales while improving the quality and integrity of your work. Becoming more efficient is integral to that process. In this session Danica Favorite of PublishDrive shows how developing a "scaling mindset" means embracing efficiency in your self-publishing.
---
7pm: Hannah Jacobson —

Art of the Title Results & Prize-Giving
Join Book Award Pro founder, Hannah Jacobson, as she announces the winners of the #SelfPubCon23 'Art of the Title Competition' and presents the prizes.
---
8pm: Joe Solari —
Direct Sales Mindset: The Advantages of Personal Sales
Throughout this enlightening presentation, Joe Solari unravels the myriad advantages of a direct sales mindset for authors, in which you can gain unprecedented control over your book's pricing and promotions, and enjoy an uptick in profits and personal connection.
---
9pm: Crystal Swain-Bates —
How an Inclusive Mindset Can Grow Your Readership
An inclusive mindset can significantly boost readership for indie authors in a variety of ways. In this session we focus on strategies for incorporating inclusivity into your writing and promotional efforts, with a view to reaching more readers.
---
10pm: Dan Holloway, Cat Mitchell, and Michael Johnson –
Accessibility and Diversity Panel: Better Processes for Writers, Better Books for Readers
Join Dan Holloway, Cat Mitchell, and Michael Johnson in this enlightening panel as they explore how fostering accessibility and diversity mindsets can unlock success for indie authors of all backgrounds. Each will provide insights into accessibility challenges faced by authors and readers alike, touching on personal experiences, broader issues, and ongoing efforts to eliminate barriers.
---
11pm: Wattpad —
Building a Growth Mindset: How Online Platforms Help Authors Build Global Audiences
What would happen to your production and promotion if you moved from writing prose for yourself to writing posts for others? This session, chaired by Jane Friedman author of the influential Hot Sheet newsletter, brings together Wattpad authors Tamara Lush and Loridee de Villa, alongside Wattpad's Head of Content and Creator Development Nick Uskoski. The session will explore how platforms like Wattpad help writers to build community and reach new readers, followers, and fans.
#SelfPubCon23 Sunday 22nd October 2023: AGENDA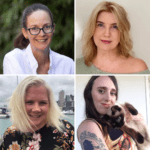 12am: Anna Featherstone, Morgana Best, Steffanie Holmes, Trudi Jaye —Developing A Global Mindset
Discover how to reach a world of readers thanks to this inspirational international panel. No matter where you write from, you can tackle mindset, marketing, creative and logistic blocks to spirit your fiction and non-fiction books across borders and into the hands and hearts of readers around the planet. Consider your author passport stamped.
---
1am: Orna Ross and Joanna Penn —

Mindset Mistakes: What Do Indie Authors Do Wrong?
Join Orna Ross and Joanna Penn for this wide-ranging discussion on mindset mistakes among self-publishers. From misconceptions about marketing to undervaluing your work, this session will delve deep into the unconscious assumptions that may be holding you back and offers actionable strategies to overcome them.
---
2am: Orna Ross, Dan Gerstein, Alessandra Torre, J.D. Pratt —

Tools and Team for a Productivity Mindset: Ghostwriters or AI?
Many indie authors face the challenge of balancing their desire for creative control with the need for professional support in the form of a ghostwriter. In this session, chaired by Orna Ross, Dan Gerstein, Alessandra Torre and J.D. Pratt will explore the success mindset necessary for hiring and working with a ghostwriter in the age of AI, including strategies for overcoming resistance, setting clear expectations, and maximizing the investment in your writing career.
---
3am: Global Panel Presented by Melissa Addey —

The Marketing Forever Mindset
One of the most interesting pieces of data to come from the Big Indie Author Data Drop was that even when indie authors are very successful, they don't stop doing their own marketing. They use tools and assistance/assistants, but marketing remains their responsibility, always. Many of the emerging indie authors, or those not selling, said that marketing was the task they liked least. There's an important mindset shift required to bridge the gap from reluctant or resentful marketing to marketing that is positive and proactive.
---
4am: Carissa Andrews, James Gillies, and Mark Chatterley —
Are You Afraid of Audiobooks?
Think audiobooks are too costly or that readers don't care? Would you love to have an audiobook but don't know where to start? Have you got audiobooks in place but don't know how to market them? This session, chaired by Carissa Andrews an audiobook producer and narrator, will outline the advantages of audiobook publishing for authors, offer a primer on how to get started, and discuss the AI elephant in the recording room.
---
5am:

Dave Cohen & Brad Gosse

 —
Develop a Comedic Mindset: Finding Your Funny Bone
What's holding you back from writing comic fiction, or adding humour to your books? Join Brad Gosse and Dave Cohen, two self-publishing funny guys, in an uncensored session of amusing wisdom about the mindset needed to successfully write and publish comedy as an indie author.
---
6am: Melissa Addey —
Giving and Receiving: How a Campaigning Mindset Benefits Authors
In this session, ALLi's Campaigns Manager Melissa Addey explains how book campaigns, especially unique or innovative ones, create buzz and make authors stand out, leading to increased sales, media coverage, and new opportunities. She'll also fills us in on the campaigns that ALLi has been engaged in, on your behalf, this year.
---
7am: 1106 Design —
Mastering Self-Publishing Success: Think Like a Publisher from the Start
Join Michele DeFilipo of 1106 Design in this engaging session to help you think like a publisher from the start. Michele will share practical insights on optimising your book's cover, content, and managing your reader's experience.
---
8am:

Anne Bartolucci

 —
From Procrastination to Production
Independent authors, like all creatives, are familiar with procrastination and how difficult it can be to overcome, sometimes. In this talk, psychologist, writing coach, and U.S.A. Today bestselling author Anne Bartolucci Ph.D., will reveal the main motivating force behind procrastination and shares a tool that moves you onto the path to productivity.
---
9am: Ricardo Fayet —
Cultivating a Collaboration Mindset
As self-publishing grows in impact, the power of author community becomes more crucial than ever. This session will delve into the benefits of collaborative efforts: beta exchanges, co-writing, box-sets, shared promotions, joint anthology projects, and more.
---
10am #SelfPubCon23 – Conference Close
Join us as we close out the Success Mindset for Indie Authors conference with a look back at the highlights and a reminder of how to enter the giveaways.
---
Don't miss out…
Remember: #SelfPubCon23 begins on Saturday October 21st at 10am, London Time. You can view sessions free of charge for three days.
If you haven't already, register here for updates.